Here are those postpartum pics I talked about. For comparison, I'll give you the last belly pic I took while pregnant.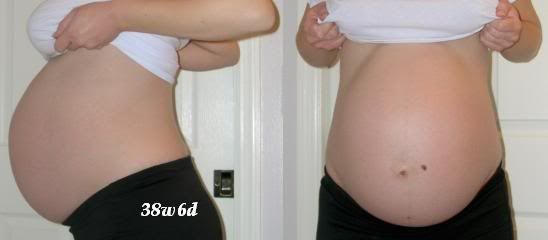 When I went to the doctor a couple days ago about my blood pressure I had to get on the scale to be weighed, something I hadn't attempted since having the baby. I was pleasantly surprised - only about 10 pounds heavier than the weight I was when I got pregnant! Its amazing losing 25 pounds so quickly, we'll see how long the rest takes to come off.
Something that surprised me even more came yesterday. I needed something clean to wear so I boldly decided to see how my pre-pregnancy jeans fit on me. Of all things, they fit fine! I was so excited!!! I guess i figured it would take a lot longer than six days to get back into my old clothes...thank goodness for working out while pregnant.