On Tuesday
Charisse
dropped Lexi off at my house & I babysat for a couple of hours. This was right around lunch time so I figured since we needed to eat & something to pass the time that we would make home made pizza & sugar cookies. Lexi really seemed to enjoy herself & helped with the stirring, adding ingredients, & putting cheese on the pizza.
She was ever so polite while she was with me & would make sure to ask before she did something. She especially wanted to ty the batters. I didn't let her try the cookies because of the raw egg but she did enjoy the pizza dough! She even asked if she could ty the flour that spilled on the counter. I said yes & didn't think she'd want any after the first lick. Boy, was I wrong! She went to town on that flour, it was so funny.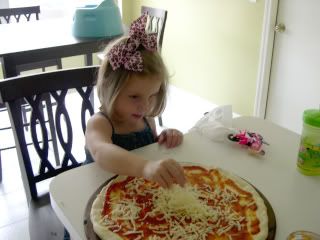 Eating the pizza dough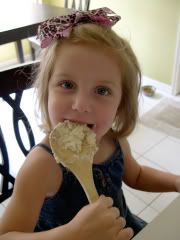 Helping make the sugar cookies





Eating the flour!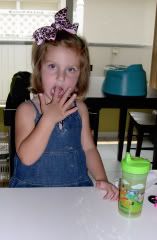 Enjoying our delicious creation