Monday my grandmother called to see if she & her husband could drive over for a visit yesterday. I was so excited & figured we'd hang out at my house & I could make coffee & maybe scones & a nice lunch. Instead, they first took us out to lunch (I had fries shrimp, yum!) & then after putting Addison down for a nap Gram & I went to Target.
First she treated me to coffee. Then we looked at the make up & she bought me the green
Boots
eye shadow I'd been wanting for about two months now.
Next we wandered to the baby area & she bought all of these cute clothes for Addison! The dresses are 9 months so they're a little big on her still (as you can tell from the pictures she wasn't in much of a mood to cooperate with trying on the clothes). I absolutely love the dress on the left! And I'd been eyeing that skirt in the bottom photo for months & it finally went on clearance! This was the last one & it's an 18 month. I can't wait until she can wear it!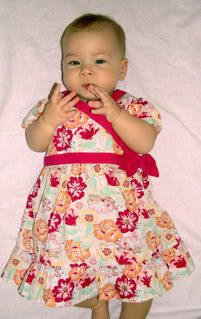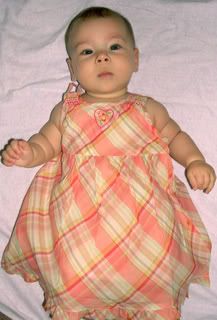 I was so excited about the new stuff for Addison & then Gram surprised me even more & bought me a dress, a necklace to go with it, & two shirts!!! (you may get to see pictures of some of it later). :)
What a fun day & such a surprising treat! Thanks again, Gram!!!
I love this picture because Gram is laughing so hard at Addison blowing raspberries